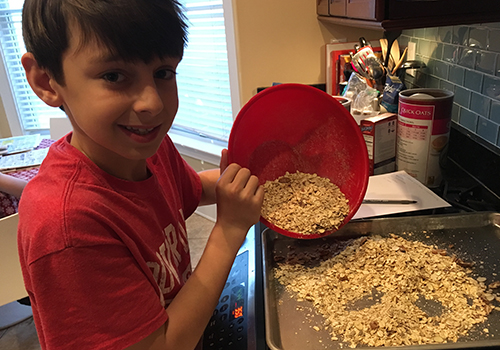 Riley Says: Make this heart healthy snack for your sweetheart!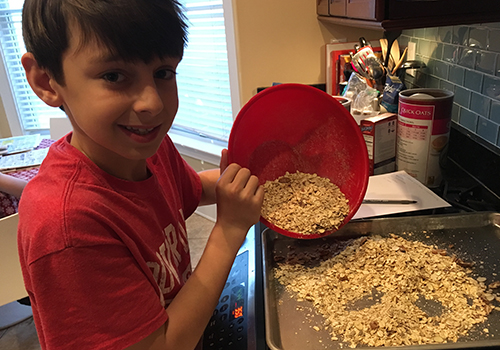 Ingredients
3 cups old-fashioned oats
1/2 cup pecans, walnuts, or almonds, roughly chopped
1/2 cup sunflower or pumpkin seeds
1 teaspoon cinnamon
1/2 teaspoon ginger
1/2 teaspoon salt
1/3 cup olive oil
1/3 cup maple syrup or honey
1 teaspoon vanilla
1/2 cup raisins
1 cut freeze-dried strawberries or craisins
Equipment
Measuring cups and spoons
Large bowl for all ingredients
Knife for chopping nuts, or just hit 'em with a rolling pin
Flat baking sheet 9″ x 12″
Parchment paper for baking
Directions
Heat oven to 275 degrees
In a big bowl, combine the oats, nuts, seeds, cinnamon, ginger, and salt until everything is all mixed up.
Add the oil, syrup or honey, and vanilla to the bowl. Stir until everything is coated. Riley's Tip: pour the oil into the 1/3 cut measure first, then add to the mixture. Use the same oil-coated cup for the syrup or honey and it won't stick!
Get a big flat baking sheet and put down a sheet of baking parchment paper so it won't stick to the pan.
Spread the granola out in an even layer.
Bake for 40 minutes until lightly browned.
Take it out of the oven. Use oven mitts and be careful!!
Let cool completely.
Mix in the craisins or strawberries.
Store in an airtight container. I use a big glass jar with a steel lid that works great and is environmentally friendly too.
Yield – 4-6 cups of granola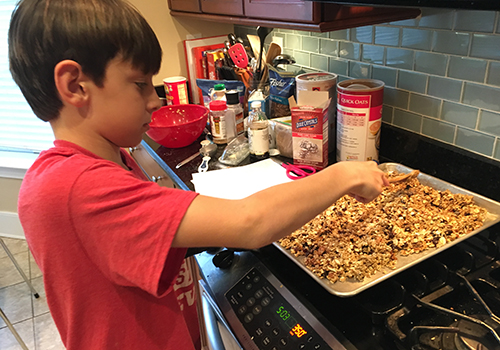 ---
Riley's Rockin' Recipes are designed for kids to make at home with easy to find ingredients, and are brought to you by Sodexo and the MUSC Office of Health Promotion.
---
More Recipes: